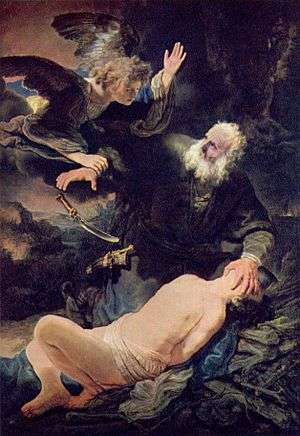 Three religious leaders, a Muslim, a Christian and a Jew who live in the Galilee, Israel, all have a deep and intimate connection to the mythological story of the Binding of Isaac. Each has shared his deepest insights on this tragic narrative with his community and disciples.
This is the moving documentary intertwining three theological and personal odysseys, beginning with a 3800 year old biblical legend and culminating in a timely and relevant manner, capable of touching the heart of every parent and child throughout the world. For centuries these three religious movements have spilled each another's blood, despite the fact that all three foster scholarship, religious rituals and liturgy based on the model of the ideal believer, our father Abraham, who was asked to sacrifice his son as proof of his love and faith in God.
The story's basic components are identical in all three religious narratives. God demands the sacrifice, the faithful father complies with His command, father and son walk for three days, the son accepts the verdict with love, the knife is raised to slaughter, only to be foiled at the last moment by an angel and finally, a different sacrifice is chosen.
From this point, each of the film's protagonists takes the story's message and factual interpretation to a different place: the duty to offer sacrifices to God, the obligation to die for His glory and the prohibition to kill – "Do not lay a hand on the boy."
We will embark on an exciting journey with these three inspiring religious leaders:
Sheikh Jamal Sawad - Sunni Muslim leader from the village of Ras El Ayin, Galilee. As an only son, Sawad's mother consecrated him to God and up until his later years, he lived the life of a monk.
Abuna Attalah Makhouli – a Greek Orthodox priest from the Kafr Yasif village in the Western Galilee. Abuna is true to his own conscience and even stands up against the Greek Orthodox establishment while holding aloft his own banner of education and love. Much like Abraham, he pays a high price for his convictions, to the point of losing his own children.
Rabbi Yehuda Gilad – Dean of the Maale Gilboa Yeshiva and Rabbi of Kibbutz Lavi in the southern Galilee. Rabbi Gilad fights for his own unique approach within the National Religious Zionist stream - "Divine morality and human morality are one and the same – this is what we should learn from the Binding."
Each of these believers is obsessed with the binding in a unique way and each of them makes relentless efforts to disseminate his own understanding of the Binding, at times paying a high price for his path and convictions. We will follow them during their personal journeys and experience the lessons and ideas each of them derives from the religious texts and prayers, while confronting relevant challenges from within their own communities - in the synagogue, mosque and church.
The film unfolds the binding as an epic universal tale. It presents the common denominators and the difference between the three religions in order to find common ground and mutual understanding.
The documentary's scope is universal and relevant to international audiences as it transcends boundaries and cultures.
Production Stage

The necessary research has already been conducted.
A few filming days have already been carried out.
Secured Finance
Producer's investment (out-of-pocket): 12,000 Euros
Required Finance: 141,000 Euros
Estimated length: 60 minutes
English Trailer
:
https://vimeo.com/102865150
Producer

Mr. Moshe Alfi has produced numerous documentaries, TV programs and web-series. He is highly interested in religious, current affairs, political and historical topics.