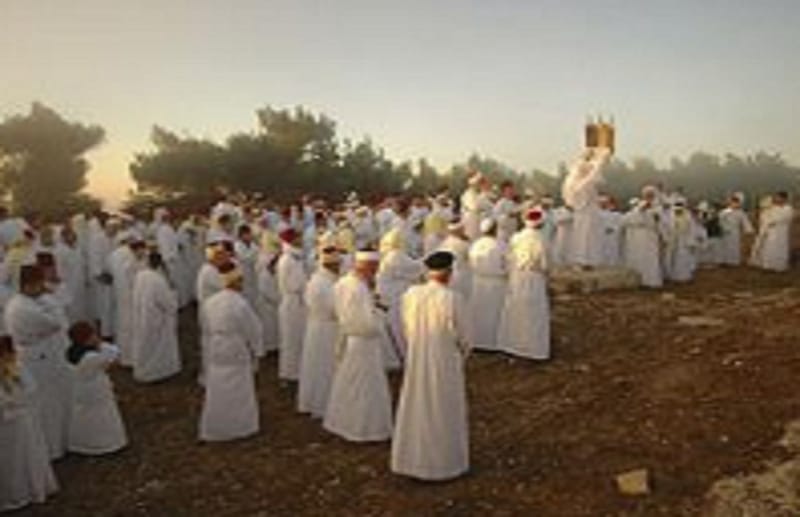 The Samaritans (Shomronim) are often mistaken for Jews. But they are not.
For 3,600 years, the Samaritan's tradition and religion have almost been frozen in time and preserved in a time capsule. They trace their origin back to the ancient Tribes of Israel which have lived in the Shomron area in the Land of Israel and have never left it since they have entered it after leaving the biblical Egypt. For instance, the Samaritans have the most ancient and complete Torah book in the world.
The Samaritans have experienced many trials and tribulations. There are records of 1.2 million Samaritans in the 4th century AD, in comparison to 141 Samaritans in the beginning of the 20th century. Thanks to the support of Yitzhak Ben Zvi, Israel's second president, their number has steadily grown to 800 people in 2018.
The film is a journey to the world of preserving ancient tradition, religion, culture, rituals and beliefs. They also have their own language, writings and poetry. Its believers act according to these ancient guidelines in the third millennium while facing ongoing challenges and conflicts. They are constantly torn between their wish to devotionally preserve an ancient tradition in the face of the rapidly changing world around them.
They are also torn between countries: their believers who reside in the city of Holon are considered Israeli, whereas in Mount Gerizim close to Nablus in the West Bank they are considered citizen of the Palestinian Authority in every aspect. They completely depend on both governments and have to navigate carefully between them in order to survive.
They are also torn between their wish to marry within their Samaritan community and their wish to grow by bringing non- Samaritan wives to their community.
The film unfolds the journey of several characters with the Samaritan community in order to experience its deep religious and spiritual world on the one hand, while unfolding its numerous challenges and conflicts on the other hand. It will show their daily battle to survive while wishing to grow in numbers against all odds.
The film also reveals the rituals during the Day of Atonement and three pilgrimage festivals (Sukkot, Passover, and Shavuot)
Production Stage

Research has been conducted and the main characters have been located and have consented to be filmed.
The first filming days are planned for October 2018 in Israel, and during November 2018 in New York and Cincinnati, USA, where there flourishing Samaritans communities.
Estimated Length
60 minutes
Committed Funding Partners

The New Fund for Cinema & Television, Israel
Yeshiva University, New York
Total secured funding: 36,000 Euros
Required Funds 96,000 Euros

Producer

Moshe Alfi's family, the film's director and producer, has produced numerous documentaries, TV programs and web-series. He is highly interested in religious, current affairs, political and historical topics.